Deleting or Moving a Stage
At some point you may want to delete a stage. Keep in mind that when you delete a workflow stage you are also deleting all the sub-stages below it, along with all the field references. If you want to salvage some of the sub-stages, you should first move those stages to a different branch that won't be deleted.
To delete a stage, click the title of the stage in the flowchart diagram. This will take you to the stage record. Then click the 'Delete' link on the right.

To move a stage, use the dropdown clipboard menu: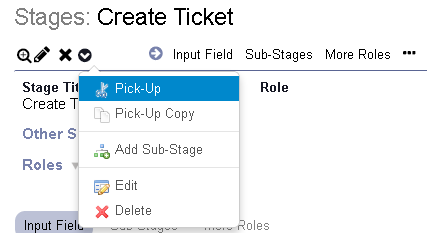 Select 'Pick-Up' to move the item, or 'Pick-Up Copy' to copy the stage to another area. Once it is picked up, you should go to another area of the workflow and drop it there. To do this, select the stage, go to the Substages list, follow the procedure to add a sub-stage, but click the dropdown arrow and select 'Drop In List'. Then click the back arrow to see the changes.
If you want to remove a stage without deleting everything underneath it, you can also click on the stage and click the "Remove Stage" button - this will automatically move the stages below it to the parent stage, and then delete the stage.
Deleting or Moving a Stage - WorkflowFirst Customer Support Server, Version 1.0.844 (beta)
[ Client.Wiki, Professional ]
Up Since 4/30/2019 8:13:39 PM